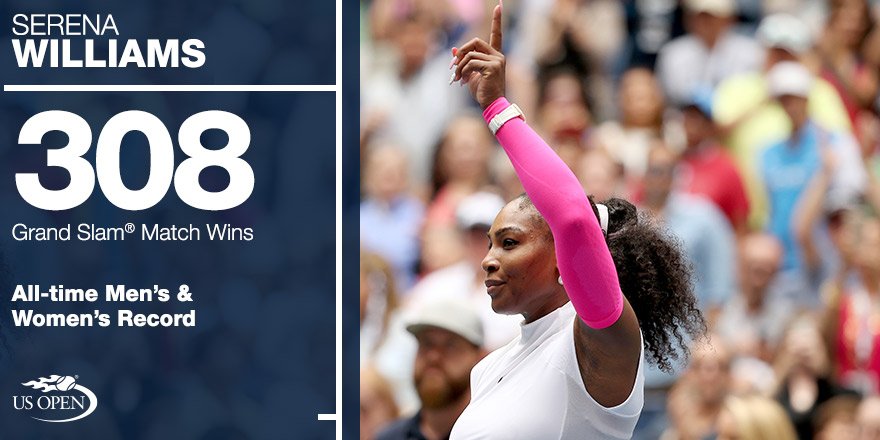 "I think it's really exciting," Williams told reporters
. "I just think winning 308 matches in general is pretty awesome. For that to be in a grand slam is pretty cool.
"It's a huge number. I think it's very significant actually. I think it's something that just really talks about the length of my career, in particular. I've been playing for a really long time, but also, you know, given that consistency up there. That's something that I'm really proud of."
Williams memorably said in 2012 that she didn't "love" tennis but may have been slightly loose with her words. On Monday she was adamant she deeply enjoyed the sport.
Asked why she continues to put in the hard work, Williams said: "I think it just comes from a different place of the, just love and really enjoying it. I definitely never thought I would be playing still.
"Now I don't really see when I'm going to stop because I'm just enjoying these moments out here, getting to break records that I didn't even know existed or I didn't even know was possible.
"I think when you really enjoy what you do, it's different."
Her victory came about two hours after older sister Venus suffered a heartbreaking loss — she was unable to convert on a match point — to Karolina Pliskova in the fourth round.
Serena continues her path at the US Open against Simona Halep in the quarterfinals on Wednesday. She has yet to drop serve and her once tender serving shoulder appears to be in good order, with the world No. 1 hitting the fastest serve of the women's tournament Monday at 126 miles per hour (203 kph.)
Her serve is, likely, the best the women's game has ever seen, playing a significant part in all the wins.
"I don't think I really served in the summer until I got here to New York," said Williams. "It was a really tough summer for me. Maybe that's the key."
In the men's draw, Juan Martin del Potro beat an ailing Dominic Thiem to reach a first grand slam quarterfinal in three years. His recent upturn has the 27-year-old and his fans hoping all the injuries are a thing of the past.
There was a moment in del Potro's clash when the Argentinian's backers must have been holding their breath.
His career derailed by four wrist surgeries -- no other grand slam winner in recent history, perhaps ever, has been hit as hard by injuries -- del Potro wanted the trainer at the first changeover. The wrist wasn't the issue but instead his serving shoulder.
And in the second set, a retirement followed.
It wasn't the 2009 winner, though, but his younger foe.